The Globe Theatre
The Original Globe and the Surrounding Area
The Globe is associated with William Shakespeare (1564 - 1616). It was the place where his plays received their first performance. Although Shakespeare lived a large part of his life in London, he retired to Stratford-upon-Avon in 1613. This picture is the most famous portrait of Shakespeare. It appeared as the front-piece of one of his plays.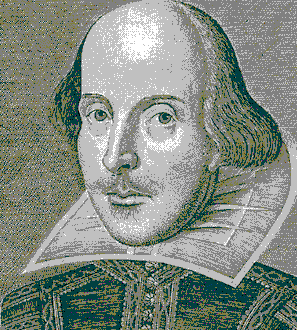 | | |
| --- | --- |
| | The Globe was built in an area of London called Southwark. This is a vital area in the history of London: in Roman and Medieval times it was a thriving centre; in the sixteenth and early seventeenth centuries Londoners flocked to Bankside to be entertained - in the bull and bear-baiting rings, in the cockfighting pits, in the hostelries which crowded the approach to London Bridge. |
1598-9 The first Globe Playhouse built and opened. The first performance thought to be 21 June.

1613 The Globe burns down - due to spar from a stage cannon during performance of Henry VIII - and is rebuilt immediately on original foundations. This time the roof is tiled, not thatched.

1642 All playhouses in London, including the Globe, were closed down by the Puritans.

1644 The Globe was pulled down to build tenements. Its foundations were buried.
The picture to the right, which shows the Globe, is an extract from a woodcut of a map of London.
The Project to Rebuild the Globe
1970 The American actor Sam Wanamaker (shown below) establishes the Globe Playhouse Trust, with the central objective of raising funds to rebuild the Globe. It became the main focus of his life, although he died of cancer before the Globe was complete.

1987 Ground-breaking ceremony in July attended by Prince Philip.

1992 June 17th: Prince Edward formally unveils the two first bays of the Globe.

---

Go back